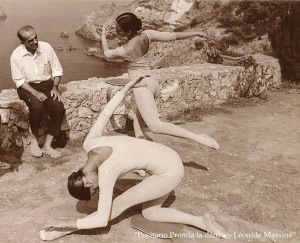 Massine – Li Galli islands
Positano has been attracting the greatest dance artists since the 1920s of the last century, when one of Diaghilev's assistants settled in the town nestled on the Amalfi Coast. The assistant hosted Lifar, Bakst, Nijinsky, Stravinsky (in addition to personalities of the art world such as Picasso and Cocteau). Then the ballet dancer/choreographer of the Ballets Russes, Léonide Massine fell in love with the place so much that he purchased the islands facing Positano, known as Li Galli, and established his residence there. After him, Rudolf Nureyev purchased Li Galli and made it his favorite haven.
On 2nd August 1969 the Premio Positano is created. Ten years afterwards, after the passing of Léonide Massine, the award was dedicated to his memory. Through the long tradition of this festival several illustrious personalities were awarded, such as: Margot Fonteyn, Rudolf Nureyev, Gianni Versace, Maurice Béjart, Vladimir Vasiliev, Ekaterina Maximova, Natalia Makarova, Carla Fracci, Luciana Savignano, Elisabetta Terabust, Alessandra Ferri, Eleonora Abbagnato, Manuel Legris, Roberto Bolle, Alicia Alonso, Uliana Lopatkina, Ivan Vassiliev, Natalia Osipova, Yuri Grigorovich, Mats Ek, Ana Laguna, Lutz Förster, Vladimir Vassiliev, Svetlana Zakharova, Viengsay Valdés.